Are you shopping for a new look? It's probably time you start experimenting with midi dresses because they're so trendy. Lots of women believe that midi dresses are difficult to style. They tell you that you've got to be an Instagram model to pull one off, but that's not true. There are several ways you can style a midi dress for your specific body type, so you can feel and look your best.
A Midi Dress: What is it?
So before jumping to styling, you need to understand what exactly a midi dress is. This is a dress, where the hem hits midway between the knee and the ankle. It's longer than a knee dress and shorter than a full length one.
So basically speaking, every dress that hits under the knee but above the ankle counts as a midi dress, right? True, but now we're talking about your whole calf and not all dresses will look alike.
Midi dresses are made of a variety of materials so they can be worn in spring, summer, fall, and winter. They can be under and overdressed easily, paired with other stylish pieces, or worn alone. Owning a midi dress means that you've got a precious elegant piece that you can wear any way you like. However, lots of women dread these dresses because they think that they make them look too short or too fat.
This can be true; only if you don't choose a suitable dress or style yours in the wrong way. As a matter of fact, any elegant piece you buy might do you wrong, if you're not careful about choosing the items that you add to your wardrobe.
Why are Midi Dresses so Popular?
Midi dresses are stylish and very popular among fashion stylists and designers. They're worn in situations when an above the knee dress is inappropriate and a full-length dress is too formal. Think of family gatherings, formal dinners, or dinner nights. An elegant midi dress can help you make your fashion statement if you pick the right one for you.
Different Types of Midi Dresses
Right now, you'll find plenty of midi dresses on the market, and it's up to you to choose the right one. Think of the season and select a suitable fabric. In spring and summer, you can find lovely flowy or A-line midi dresses that come in pastels, flower prints, polka dot, and gingham prints. Go for sleeveless, strapless or short sleeve designs if the temperature rises, but don't forget to pair your dress with a lightweight cardigan or denim jacket at night.
Bodycon midi dresses are also excellent for the morning as well as evening outings as they will accentuate your curves and make you look your best on any occasion. Bodycon dresses also work very well with blazers for office mornings and business dinners.
As the temperature drops, you can choose heavier fabrics and darker colors. Add a leather jacket and you'll be good to go. Midi dresses are also excellent to wear on special occasions. Velvet is an amazing choice for the cold season as it wraps around your curves and accentuates your silhouette. For the hot season, you can go for lightweight sequined and shiny materials. Silk, chiffon, and lace will work for various special occasions and there are hundreds of colors to choose from. Pair your dress with the right accessories and heels and you'll guarantee that you'll turn heads wherever you go.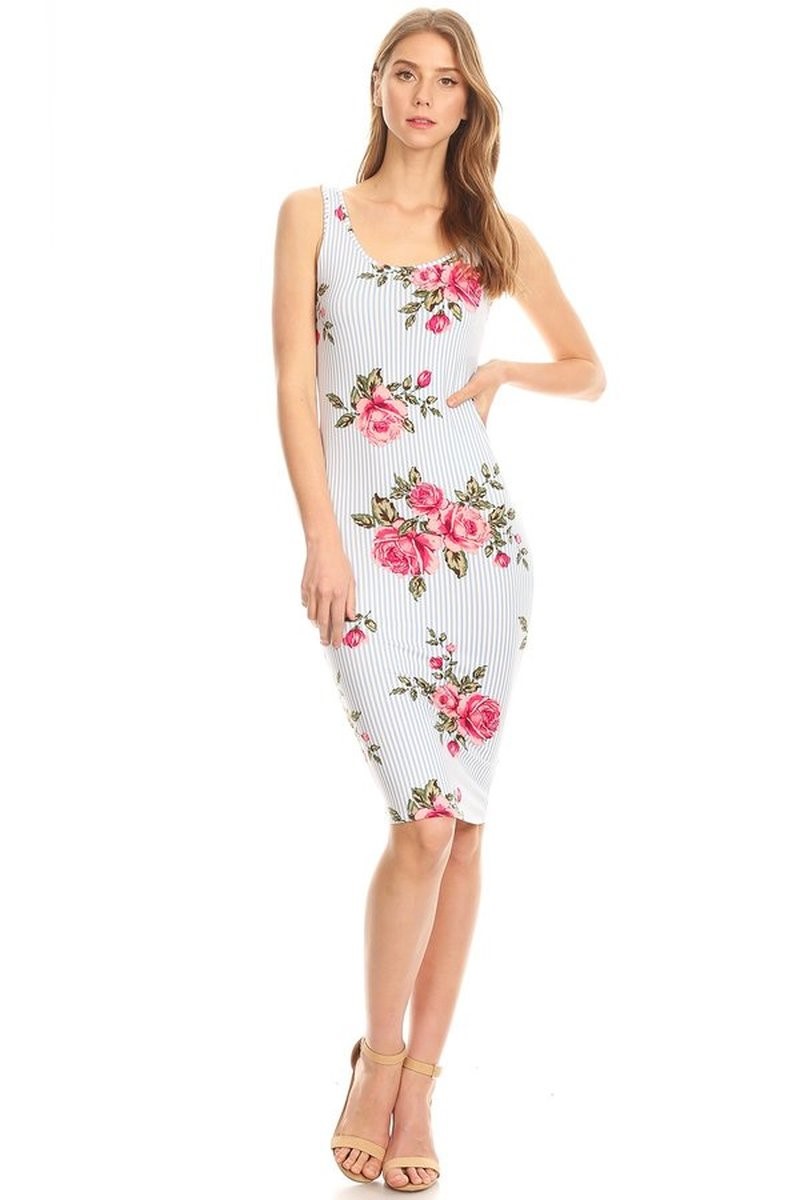 How to Choose the Best Midi Dress?
Although midi dresses are elegant and stylish, you must make sure that you're picking the right one and know how to style it. Here are a few tips that you can follow while shopping for a midi dress.
1.Think of the Right Length
Where the hem hits will determine how your dress will look. Most women look great with a dress that is a couple of inches below the knee or a couple of inches above the ankle. The key is to avoid a dress that hits right in the middle of your calf, in the widest area. This will give the illusion of a longer dress and will not make you look boxy.
2.Choose a Versatile Piece
Your goal is to buy an elegant dress that you can style in different ways. Dresses that don't have lots of details can be easily worn under blazers or jackets to give the look of a skirt. The bottom part will look like an A-line, pencil, wrap or pleated skirt.
If not worn right, a midi dress will make you look boxy, messing up with your silhouette and hiding your sexy curves. This is why you should pair your dress with a suitable belt that highlights your waistline and completes the look. You can also look great without a belt if you're wearing a bodycon dress. However, some women also prefer to add a thin belt to accentuate their hips and make their curves look more prominent.
A midi dress will be your best friend if you're a little conscious about your bottom part. If you have spider veins, fuller hips, or simply don't want to draw attention to your legs, you can still look your best by picking a sexy midi dress. Choose a suitable neckline or go for sleeveless, strapless or one-shoulder options. There are lots of styles that you can experiment with to highlight your assets.
5.Select a Midi with A Slit
Who said that a midi dress should cover your whole leg? You can always choose a midi dress with a slit, whether the bottom part is flared or tight. The slit can go up to the knee or higher if this is what you like. The slit will show some skin making you look sassy every time you move.
A single midi dress can be worn with sneakers for a casual morning or with heels for an elegant dinner date. Don't be scared to try several styles until you find the one that suits you.